I started this back in February; but for assorted reasons,didn't finish or post it. As I have my emergency nail repair -yes, that CAN constitute an emergency, thank you; have you seen my shoes??? - now's as good a time as any to finish it. :)
To say that I was raising an eyebrow in slightly miffed disbelief at Tracy McMillan's
"Why You're Not Married?"
Would be an understatement. Because, I'm pretty sure that I'm not single due to any of the reasons that she listed in her blog post.(1) But that being said? I don't think she's completely wrong, either. The whole shallow, slutty thing will get no argument from me. I just think she missed the overall point.
Yeah, Maybe We Are Liars... Sorta
I -do- think that we all have a tendency to be unintentional liars in relationships. Not about what food we want to eat, or what we want to do on a date, or whether or not we really work at the local coffee shop... but, about what we want out of life and the baggage we're carrying along for the relationship ride. For most of us, I think it's because We.Don't.Know. We don't know whether or not we want to get married; we don't know why we're so screwed up and freak out every time "Say Yes to the Dress" comes on TV.
Most people don't really take the time to deconstruct the issues in their past relationships before moving on to the next one. So, we take those hurts with us and over time they just become habits or boundaries that become part of our identity... we may not even remember why we felt the need for those behaviors to begin with. They get thrown in under the heading of "it's just who I am" and we keep moving on in search of the person who'll finally 'get it' / 'get us, just the way we are.' Except... how can someone else 'get it' if we don't even really get it ourselves?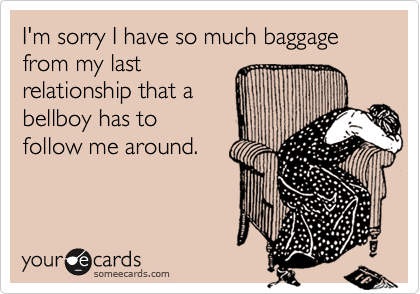 But the rest? She missed the mark...
It's not that you're not good enough; it's that you think you DESERVE even better.
I'll be the first to admit that I? Am a catch. I know it; I've always known it. Sure, I've got my baggage; but I'm perfectly capable of carrying it myself, thanks. I'm stable, successful, attractive, centered, fun; with 2 cute kiddos and no ticking biological clock. But, I've never been one of the girls that's said to myself, "I'm a solid 7 or 8; so... it's only 9s or 10s for me!" Not really caught up on all of that; but boy do I know a lot of people who are. They think they're too good for the guy with the balding head and glasses; being with him would reflect poorly on their own worth. I will say that while I've seen my girl friends do this? Guys? Are SUPER bad about this; not sure if it's a lack of reality-based self awareness or just that we are wired differently... But i have watched way too many of my guy friends cast aside wonderful women that thought they hung the moon (2) to "trade up" for the hot chick that treats them like they are being done a favor just by virtue of being there. And it just really rarely ever works out... If YOU think you deserve "more" fine- but when you only accept what YOU believe should be just beyond your reach? Not only is that a little shallow, but the imbalance in the relationship will eventually make you both unhappy... Which doesn't exactly evoke images of wedded bliss, now does it?
Having children does not mean you will be cured of selfishness any more than not being selfish means you will get married...
We have ALL met the uninvolved parent, the Mom that will buy Manolos before medicine or the Dad who can't make the soccer games because it interferes with his busy bar schedule. HAVING a child does not mean you will love them, or be the kind of selfless that I think she is referencing that spouses want to experience... It just means you have children. Those of us who put our kids high up there on the priority scale know that children are actually an
Impediment
to dating more than an enhancement... But, when the right person comes along, they get the priority & roll with it.. Making it a priority for them, too, by respecting its importance In your life. But not gonna lie; that's a tall order to fill. Also, "selfish" has NEVER been used as a descriptor for me but I? Am still single :) My point is that it's not an automatic qualifier/disqualifier.
So, ok Ms. Smarty-pants, what is the point??? (3)
The point is if you're not married? You aren't ready yet... Maybe not because YOU personally aren't at a place where you are ready to be married; but, because to be married? It takes two.. And if the "we" isn't ready for marriage, then you're not ready yet. You shouldn't try to force the issue or play games with it, either. Just assess the situation honestly & objectively; communicate with your partner to make sure your long-term horizons look the same. If they don't? Then your problem isn't how to get married; it's how to move on and start over with someone else. But, if they do? Then chill out & don't suck the fun out of a good relationship by being impatient. Marriage isn't a magic formula for happiness & certainly isn't required for "happily ever after;" but it is absolutely worth the wait until you both are firmly on board because it IS supposed to be forever... and who wants to live with wondering if you got hitched because he was head-over-heels, yet thoughtfully committed to a lifetime or just did it because you pushed??
(1) though, my former boyfriends might be the better people to ask, LOL
(2) but maybe aren't going to be cast in any movies next week or will stop traffic just by stepping out of the car in the parking lot
(3) Come on, you know you were thinking it.... It's okay... :)