For those reading this on FB, you won't get to see the crazy funny video unless you go to blogger, I don't think.
Growing up, I had this vision of how I'd spend my free time: riding horses and spending a lot of time listening to music, playing the piano, and singing. Preferrably in an environment where there were a lot of candles and wine. And a partner who enjoyed those things, too. In a setting somewhat like this: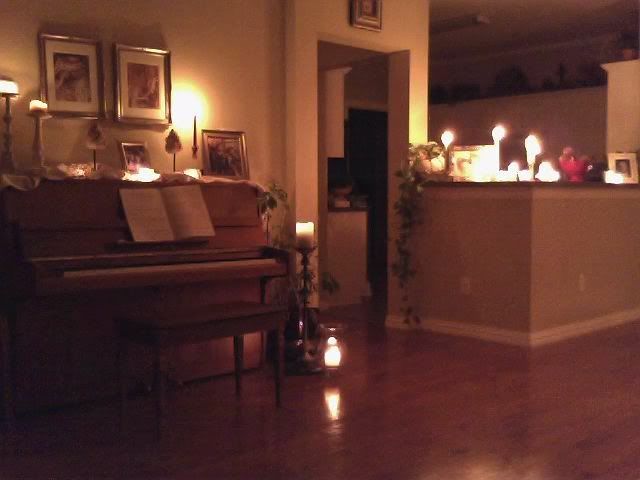 Fast-forward to now. I never really found the partner who was into music like I was; however, I definitely have the setting and the music (by the way, I rarely ever ride - time gets in the way). With my scary eye last night I decided to stay home. Since they said the scary eye was caused by pressure that could have been caused by stress (they don't know what caused it, really); I started thinking about the things I used to do that I really enjoyed. I used to light an inordinate amount of candles and sing/listen to music pretty much every night. It was a stress relief and it? Was good. So, that's how I spent last night - well that and playing with my LifeCam. What were some of the ways you thought you were going to spend your 'free time' as an adult; and, do you spend it that way? What's fun and unwinding for you??




I'm kind of intruiged with my LifeCam - it's basically a webcam with a really long wire so it's more flexible and can capture more of what you're doing. It's NOT the action cam it somewhat advertises itself to be, though. I looked something like a schizoid just sitting at the table singing last night. It might have a place for vlogs, though; I'll likely be trying that out soon (might be a little more time efficient). I have an outtake below for your bemusement (I know it made me laugh out loud!).





Some things I noticed - I have to upload it to youtube to get it to work on myspace. When I do, it skews the video/audio feed timing. Good times. So, definitely need to work on that. You'd think I'd get cute for anything I was even remotely considering putting on here; but, truth be told, I don't care. :) It sets the bar kind of high; this way, when I AM presentable, it'll be a pleasant surprise. I'm not sure what cracked me up the most - I think it the fact that I was soooo off key and warbly in parts of it! LOL