that blogging on Facebook? So not going to happen; because my kids are on my friends list. Don't know WHAT I was thinking with that one - but it's not conducive to talking about relationships, dating, and all the hoopla that comes with it. After much thinking and inner-debate? I'm back here - and on Wordpress. :) With 4 blogs that I run or contribute to, I wasn't sure if I'd have time to keep up with this one - but, I LIKE talking about dating and being a single gal in Big D. So here I am! :)
To kick things off, I'm going to write about 2 very polar opposite experiences: coming on WAY too strong and coming off way too ... I don't even know the right word. So, I'll start with that one. A guy recently told me that he's intimidated by me. Say what?!?! Ok, there's more than a few of my readers that don't personally know me; but for all that do? Intimidation is
so
not the word that one would typically use connected with me. Unless maybe if they worked for me - in which case, "bitch" or "ball-buster" might not be too very far behind (I'm very task-oriented and if honest, somewhat demanding - though I can honestly say I've cared about every single one of my employees). But, personally?? Yeah, it took me back a bit - I'm not sure what exactly would be intimidating about me! I'm a clutzy, goofy mess!
He says it's actually not ME - it's my blog. Not the first time I've heard a guy express concerns about being 'picked apart' online for all to see. Ok, I can appreciate that - but, I'm not going to stop writing. :) I'll just keep an eye open for the guy that laughs it off. :p And maybe it shouldn't be the thing I mention right off the bat when I go out with a new guy??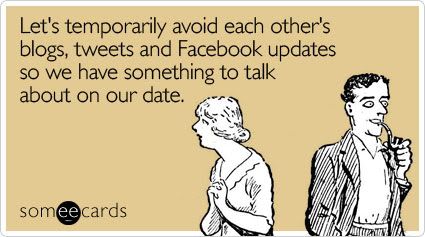 Now, the WAY too strong?? I'm still shocked by hard it is for some guys to comprehend "No, thank you." There's this guy; lives near me... I've
solidly
rebuffed this guy for the better part of 3 years. Think borderline, "Ouch, that had to hurt" when imagining my latest responses. There's no way in Hades this guy shouldn't get that I'm not interested. Yet:
Monday: Log into my email and there's an email from him: "Hey, our kids both have concerts the same night. Want to sit together? Then maybe we can all go get some ice cream after or something
." (ok, this COULD be innoculous - so, I respond)

"FlirtyGuy," sound like fun, but I'm going to be sitting with the girls' Father and grandparents. Have fun at the concert!


Tuesday: Voicemail from "FlirtyGuy" - "Did you get my email? I think we should scratch the icecream and have dinner before."
Text back: "FlirtyGuy," I emailed you back. Still recovering from jaw surgery - don't like to eat much right now... so, we're going to have to pass. Thanks, though!


Wednesday: Facebook message from "FlirtyGuy" and the 12th 'friends request' in the last month. "So, when are we going to go out?"
Friend Request "Ignore" & Message back: We're not
.
Have a great day!!!


I'm telling you, if I get another advance today - his turkey? Is totally cooked.